Archipelago
is defined as a sea or part of a sea studded with islands, often synonymous with island groups, or as a large group of islands in an extensive body of water, such as sea. (De Leon, 1991)
In various conferences of the United Nations on the Law of the Sea, the Philippines and other archipelago states proposed that an archipelagic state composed of groups of islands forming a state is a single unit, with the islands and the waters within the baselines as internal waters.By this concept (
archipelagic doctrine
), an archipelago shall be regarded as a single unit, so that the waters around, between, and connecting the islands of the archipelago, irrespective of their breadth and dimensions, form part of the internal waters of the state, subject to its exclusive sovereignty.
Despite the opposition of maritime powers, the Philippines and four other states (Indonesia, Papua New Guinea, Fiji and Bahamas) got the approval in the UN Convention on the Law of the Sea held in Jamaica last December 10, 1982. They were qualified as archipelagic states. The archipelagic doctrine is now incorporated in Chapter IV of the said convention. It legalizes the unity of land, water and people into a single entity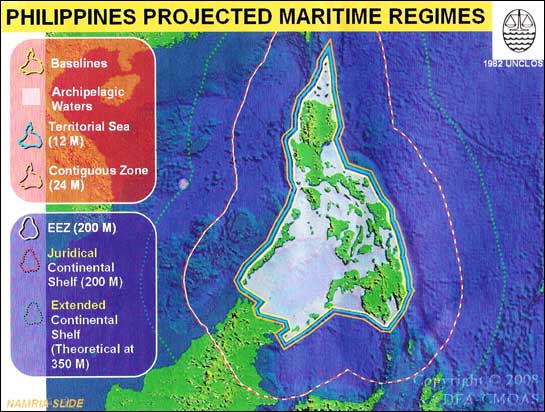 photo courtesy of gmanews.tv
The Philippines bolstered the archipelagic principle in defining its territory when it included in Article 1 of the 1987 Constitution the following:
:
"The national territory comprises the Philippine Archipelago, with all the islands and waters embraced therein xxx"; and
"The waters around, between and connecting the islands of the archipelago, regardless of their dimensions, form part of the internal waters of the Philippines."
On the strength of these assertions, the Philippines Archipelago is considered as one integrated unit instead of being divided into more than seven thousand islands. The outermost of our archipelago are connected with straight baselines and all waters inside the baselines are considered as internal waters. This makes the large bodies of waters connecting the islands of the archipelago like Mindanao Sea, Sulo Sea and the Sibuyan Sea part of the Philippines as its internal waters, similar to the rivers and lakes found within the islands themselves.
The archipelagic principle however is subject to the following limitations:
a) respect for the right of the ship and other states to pass through the territorial as well as archipelagic waters
b) respect to right of innocent passage
c) respect for passage through archipelagic sea lanes subject to the promulgation by local authorities of pertinent rules and regulations.